SW Club Junior newsletter
Junior Newsletter
South West Mountain Bike Club
Junior Development Program News
April 7th 2016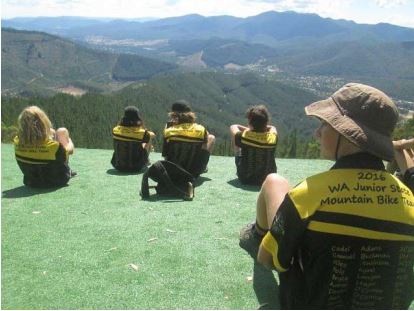 Riley, Tarky, Declan, Roly, Cadel at the start of the Nationals Down Hill Track
1.Up And Coming Rides And Events
 April 10th StateRound1CrossCountryDwelingup
https://online.mtba.asn.au/ERegister.aspx?E=3019&avad=145705_daff953d;
 April 17 WAGE Gravity Down Hill 2 Pemberton.
https://www.wagravityenduro.org/;
 April 23rd/24th State Down Hill 2 Wellington mills
http://www.wamba.org.au/index.php/clubs;
 April 30th/May1
st Skills Clinic Camp Cycle Trek Farm onii@bigpond.com;
 May 8th State Round 2 Cross Country Kalamunda
https://online.mtba.asn.au/ERegister.aspx?E=3019&avad=145705_daff953d;
 May 15th Duo 50 Dwellingup
http://www.d50duo.com/;
 May 28th29th Down Hill State Round 3 Wellington Mills.
http://www.wamba.org.au/index.php/clubs;
 May 29th Cross Country state round 3 Cycle Trek Farm.(more info soon)
2. This Sunday is the first round for the season for the State Cross Country Championships Marinup
This Sunday is the first round for the season for the State Cross Country Championships. The
race is being held at Marinup At the town of Dwelling up. The race course is a great fun
coarse for the beginner as there is plenty of single track with out any hills or too technical
obstacles and like all the races is very social. Cadel and I will be camping at the camp site at
Marinup if you wish to join us just email me if you wish to join in .The camping is free and
usually there are other riders there camping so it makes it a great night out.You must
register by the 7th of April on the below link where you can also find more information.
https://online.mtba.asn.au/ERegister.aspx?E=3019&avad=145705_daff953d;
3.State Down Hill race Wellington Mills/BMX
State Round Bunbury 23rd/24th April .
Don't forget to register for the next State Down Hill event being held at Wellington Mills
April 23rd /24.This will also be a great event for everyone to come and watch the riders that
are involved in the South West Mountain Bike Club Junior Development Program which
consist of some of Australia's best riders. For more information and to register click on the
below link.
http://www.wamba.org.au/index.php/clubs;
Also If you are in town for the Down Hill you might want to make your way to the Bunbury
BMX track Friday and Saturday Night for the State Round for BMX. With 400 riders expected
to race it should be a great night for watching BMX.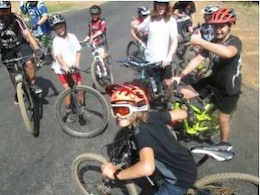 4.Junior Skills Session Camp 30th of April and 1st of May Cycle Trek Farm.
A lot of Parents and juniors have been asking for aspecial skills session for the juniors so
April 30th/May 1st a special camp is being put on for the purpose of a skills session for al
juniors. The weekend will also serve as a preparation weekend for the following weekend
when there will be round 2 of the State Cross country round being held at the Cycle Trek
Farm. Parents will also be needed to help out to have the tracks prepped while the skills
session is being held. All children will be taught extensively the very important skills needed
to be a great rider. Please let me know if you wish to attend cost will be $10 per family for
the skills clinic plus the cost for camp fees. More information will be sent to those that wish
to attend.
5.Albany 1st State Down Hill Round March 5thto 6th
This weekend was the 1st round for the State Down Hill series which was held in Albany.
Our club had some great results in the juniors which need to be mentioned.
Riley Wakeling 1st in the under 13 age group.Blair Stuart 2nd in the under15 age group. Under 17
age group :Logan Wakeling 5th, Riley Westra7th and Jaxson Sawyer 9th.
Other riders that did well from other clubs but ride with the South West Mountain Bike Club
Junior Development Program include in the under 15 age group, Gus Kyme 1st (who was riding up
in his age group), Brodie Townrow 3rd and Kieran O'Connor 8th.
In the under 17 age group Roly Kyme 1st, Declan O Connor 2nd, Yuliang Seow 3rd, Damon
Blacker4th, Greg Stanly 6th and Jack O Connor 16th.In the under 19 - 1st Nathan Sivec and 2nd
Liam Pickering.
6.New 2016 State Mountain Bike Calendar is out
http://www.wamba.org.au/docs/2016_WAMBA_Race_Calendar_v4.pdf;
Check out the new event calendar on the WAMBA web Site.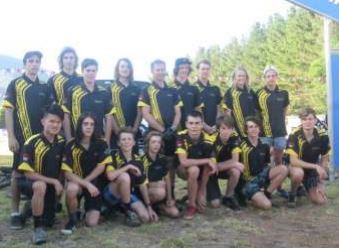 7.National Championships Bright Victoria March.
The National Champs this year would have to be one of my better high lights of my life
being part of this year's State Junior Mountain Bike Team as the Sate Coach. Juniors from
the South West Mountain Bike Club as well as juniors from other clubs that ride with the
South West Mountain Bike Club Junior Development Program made up a strong team
consisting of 19 riders with three of those juniors not part of the state team but were there
to help represent themselves, WA and our club and the junior development program. The
National Mountain Bike Championships were held in a beautiful small country town named
Bright in Victoria from March 16th to 22nd. This year's State team would have to be the
biggest and most successful team ever for WA .It was really special and rewarding to see all
the juniors stick by each other ,supporting each other and having the best fun that anyone
could possibly have for the whole trip from the time we left the airport in Perth to the time
we returned back in Perth. The way the riders supported each other to get through the race
and the marked out course weather it was the Cross Country or the Down Hill was just out
standing. There was a total of 5 cross country riders and 15 down Hill riders which included
two of the cross country riders Cadel Adams and Tarky Wall.There were plenty of high lights
from the week away the ones that come to my mind are Riley Jenkinson in the Criterium
who was out the front for the whole race and ending up in 4th position as well as his efforts
in the cross country under 17 category, The sprint finish in the under 19 cross country riders
between Jorden Schmidt who had a bad start and had to work very hard to end up finishing
in 9th place and just edging out Byce Lanigan for 10th place, In the down hilling Greg Stanley
for building up the encouragement to attempt the massive gap jump. Yuliang Seow for
finishing 4th place, Declan O Connor in 7th and Roly Kyme in 11th for the under 17 age
category. Aaron Leagas was 10th in the junior men and Jake Marshal finishing in 14th place
after having a massive crash.
Thanks to every one for making my job as the State Coach so memorable
From Graeme Adams.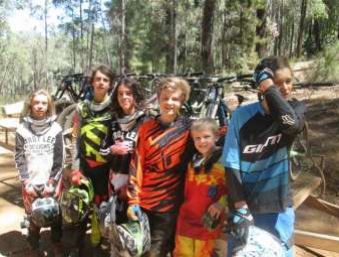 8.Down Hill Session Mundaring held 28th of February
Leading up to the Nationals a Down Hill session was held at Mundaring so we could get to
ride with our friends from Perth. A total of 13 riders turned up for the day as wetried our
skills out on several chalenging tracks that were steep and off camber.The start of the day
involved a track walk to talk and demonstrate on how to tackle the obstacles and corners.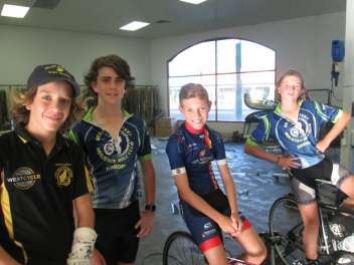 Mian Grimbeek , Cadel Adams, Alex Murphy, Riley Westra , at the Tuesday and
Thursday spin classes with other junior road riders .
9.Join Cadel, Mian, Jaxson, Alex, Logan and Riley
For Training
Training session for the serious riders who would like to
become fitter. If you are heading to the National champs you really do need to
have a go at this .
In Bunbury on Tuesday and Thursday nights at Bunbury Tint a Car on Blair St opposite the
Bunbury Vet Clinic a special FREE spin class is set up for juniors that are serious in building
on their fitness .You need to have your own Trainer machine which I can help you out with
at Fitzroys ,water and a towel .The session is free and is awesome for your fitness .Come
down and join Cadel Adams ,Mian Gimbreek Logan Wakeling and Riley Westra who are
training hard with other juniors from the road Club .It does not matter how quick you are or
how fit you are as these training sessions are set up for all abilities and they are quite
sociable . For more information you need to contact me . There is one spare bike available.
10.Wednesday Night rides
Don't forget The Club stages a night ride every Wednesday night which starts 6:30pm from the bottom hut Pile
Rd . You must have a bright set of lights ,water and some food .
11. BMX Racing Wednesday Nights.
The local BMX club here in Bunbury are now racing every Wednesday night.BMX is a great
sport and to me is the apprenticeship to getting into cycling as it teaches you many skills of
riding a bike .The Bunbury Club has up to 170 riders each Wednesday night racing. The
South West Mountain Bike Club have many riders that race down there so if you have
nothing to do come on down and have a look it is a great night out and there is a canteen
there to buy food from.
12. IMPORTANT INFORMATION FOR RIDING WITH THE CLUB AND ME.
If you wish to continue on riding with me and the SWMTBC, then you will need to join the
SWMTBC or be a member of another affiliated club and also become a member of Mountain
Bike Australia (MTBA).
Mountain Bike Australia
MTBA provides insurance cover
for personal injury and third party, and also for myself being a coach. We are not allowed to
run a ride for anyone without a MTBA membership. Please consider purchasing this
membership if you wish to ride with me and the club. You can find out more information on
the different types of MTBA membership here
.
Mountain Bike Australia
.. When you come to a ride you must
have spare tube, pump, gloves, water, and some food (such as jam sandwiches). I would
also recommend some cheap safety or riding glasses. All juniors under the age of 15 need to
have an adult with them or talk to me first.
I also have a terms and conditions to follow while attending the junior riding group. It is
important that you read, understand, and agree to these conditions. As a coach I will not
tolerate anyone putting someone else down as this is bad for the group and the individuals
involved.
From Graeme Adams
Junior Coach and Coordinator for the South West Mountain Bike Club
West Australian Mountain Bike Association Junior Development Coordinator
97218600 W
97250914 H
0439063817 M
Edited